We've all been there. The second you saw that title, you were thinking about that extremely hot older brother your best friend has and exactly what you would do to him – even though you've sat with his entire family (including him) at family functions. Guess what? It's okay! And guess what? I've had sex with my best friend's older brother. And I even one up-ed that – she's also my roommate at college. No, it didn't ruin our friendship; no it didn't get awkward; and yes, she knows that it happened – more than once, actually. Today, I'll be telling you all about landing that horny and hot older brother you can't stop fantasizing about.
To Pursue? Or Be Pursued?
First thing's first: this guy is really easy to find, so you don't have to look very far. He's already at your best friend's house, of course! But here's the key on how to approach him: Don't! Let him come to you. If you go chasing after him, your friend probably won't like that very much. But if you can (somewhat) honestly tell your friend he initially pursued you once she finds out, it's a lot better. Of course, you're totally welcome to flirt with the older brother, but probably not in front of your friend! Wondering how hooking up with your BFF's bro might turn out? Check out this hot Maxim read detailing one reader's escapade…
Make It Happen
Ready to make the move? Here's some tips to make sure you have the best experience possible.
1. Make sure that it is okay with her first.
Because there are millions of guys out there and losing your friend over one is not worth it!
2. Don't tell your friend any details.
That's her family. You're really just asking to make things uncomfortable between you two. Believe me, she does NOT want to know what her brother's orgasm face looks like.
3. Make sure you're both clean & ALWAYS use a condom and birth control.
Of course you should always do these things, but it might be a little harder telling your best friend's brother you gave him chlamydia or that he's gonna be a daddy.
4. Don't start a real relationship unless you're in it for the long run.
Because I'm sure your friend wouldn't appreciate you breaking her brother's heart and avoiding him would be nearly impossible.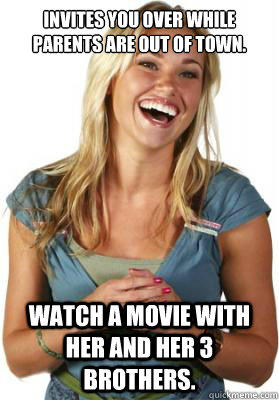 Pros & Cons
Because it's not all hot and sweaty passion…
Pros
Convenient
Hot dirty secret
Cons
It can get awkward with the brother or your friend
Her family could find out
Your friend might actually be grossed out
It's the one guy you can't tell your friend all the dirty details about
When It's Worth It
Hooking up with your friend's brother can be really fun, but it isn't worth losing a friend over. Just remember your friend should come first. However, if she's cool with it – enjoy! I have countless enjoyable memories of me sleeping in my roommate's brother's bed, watching House M.D, sucking his dick, and it was awesome.